The 1936 Proof Set (Buy on eBay) is usually considered to mark the beginning of the modern era of Proof Sets. The last Proof coinage had been produced twenty years ago in smaller mintages and did not include each denomination struck for circulation. In the year of release, the 1936 Proof coins received somewhat of a lukewarm response from collectors, although today all issues are prized as important low mintage issues.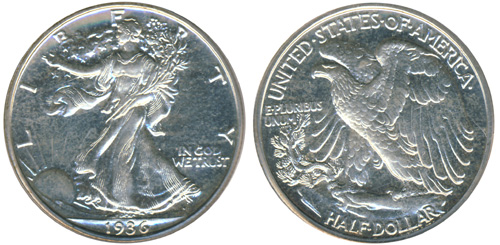 All five denominations produced for circulation were struck in Proof version. This included the Lincoln Cent, Buffalo Nickel, Mercury Dime, Washington Quarter, and Walking Liberty Half Dollar. The coins would be sold by the United States Mint individually or as a complete set. Individual prices were 75 cents for the half dollar, 50 cents for the quarter, 20 cents for the dime, 20 cents for the nickel, and 16 cents for the cent. A complete set was priced at $1.89.
Since coins could be ordered individually, the mintages for each 1936 Proof coin vary. The mintage for the 1936 Proof Set is stated as the lowest mintage for an individual coin of 3,837, since that is the maximum number of complete sets that can exist.
Early in the year, the Lincoln Cents and Buffalo Nickels were produced with a satin Proof finish. This finish was disliked by collectors, since it closely resembled the regular circulation strike coins. The U.S. Mint responded by using a brilliant finish for all subsequently produced coins, resulting in two different finishes for the cent and nickel. The satin finish is sometimes referred to as "Type 1," while the brilliant finish is referred to as "Type 2." The dime, quarter, and half dollar are all found with only the brilliant Proof finish.
The 1936 Proof Set packaging could vary. The individual coins were placed within cellophane sleeves, and then stapled together at the top, either as a complete set, or with other coins from the same order. The stapled sleeve was placed in a box or envelope and shipped to the customer. Many sales occurred at the Philadelphia Mint where the coins were produced.
1936 Proof Set Coins
1936 Proof Set Information
Coins per Set: 5
Face Value: $0.91
Original Issue Price: $1.89
Mintage: 3,837