The 2007 Silver Proof Set (Buy on eBay) included a total of fourteen different coins, an increase of four coins compared the prior year. The additional coins were the result of the new Presidential Dollar coin series, which would honor the former Presidents of the United States in the order served. The concept of rotating designs, used for the State Quarters and Westward Journey Nickels, was perpetuated to another series.
The original cost per set was $44.95, up by $7 from the prior year. The higher price was related to the inclusion of the additional coins. Sales officially began at the United States Mint on August 23, 2007.
Each 2007 Silver Proof Set contained seven 90% silver coins, the Montana Quarter, Washington Quarter, Idaho Quarter, Wyoming Quarter, Utah Quarter, Kennedy Half Dollar, and Roosevelt Dime. The aggregate silver content for these coins was 1.33823 troy ounces. Rounding out the set were seven additional coins struck in their standard compositions. This included the Lincoln Cent, Jefferson Nickel, Sacagawea Dollar, and four 2007 Presidential Dollars.
The US Mint separately offered a 2007 State Quarters Silver Proof Set for $25.95 and a 2007 Presidential Dollars Proof Set for $14.95, creating a redundancy for the majority of the standard set.
The packaging for the 2007 Silver Proof Set was altered to accommodate the increased size of the set. Two separate boxes were used, placed within a custom sleeve. The first box contained a single lens with the Presidential Dollars. The second box contained two lenses with the remaining coins.
2007 Silver Proof Set Coins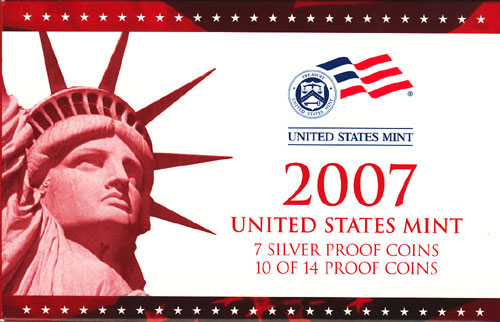 2007 Silver Proof Set Information
Coins per Set: 14
Face Value: $6.91
Silver Content: 1.338 troy oz. (41.616 g)
Original Issue Price: $44.95
Mintage: 875,050


< 2006 Silver Proof Set | 2008 Silver Proof Set >