After several years of declining sales, the 2012 Proof Set (Buy on eBay) marked an extreme mintage low for the product type which finally caught the attention of some collectors. The last reported sales of 794,002 sets represented a decline of nearly 30% from the prior year and the lowest figure in more than five decades.

The full annual set included a total of fourteen coins across six denominations. Three series continued their programs featuring rotating designs, providing collectors with some variety. The America the Beautiful Quarters Program featured representations of El Yunque National Forest, Chaco Culture National Historical Park, Acadia National Park, Hawai'i Volcanoes National Park, and Denali National Park. The Presidential Dollars Program featured portraits honoring Chester Arthur, Grover Cleveland for his first and second terms, and Benjamin Harrison. The Native American Dollar design portrayed the spread of the horse.
The coins with static designs included the Lincoln Cent, Jefferson Nickel, Roosevelt Dime, and Kennedy Half Dollar.
Sales of the 2012 Proof Set began on May 7, 2012, which was a few months later than the previous year. The sets were priced at $31.95 each with no stated product limit and no household ordering limits. Somewhat surprisingly, the sets sold out at the U.S. Mint on January 3, 2013. In recent years, the annual sets had remained available from the Mint for extended periods of time, approaching two years.
The early sell out and low reported sales figure resulted in an immediate secondary market price boost for the sets. Whether this set continues to command a premium in the future will likely rest upon whether sales figures for future years rise or fall from the low level established in 2012.
Packaging remained similar to the prior year, with the coins included in three separate lenses and placed with a certificate of authenticity in an outer cardboard box with blanks and brown design theme.
2012 Proof Set Coins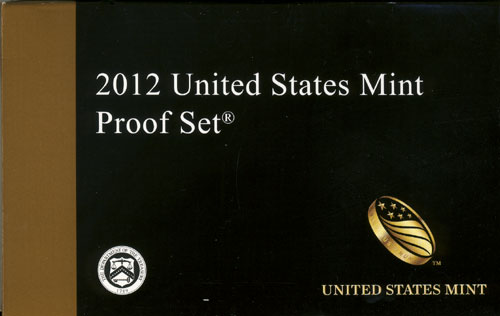 2012 Proof Set Information
Coins per Set: 14
Face Value: $6.91
Original Issue Price: $31.95
Mintage: 794,002


< 2011 Proof Set | 2013 Proof Set >