On June 7, 2017 the United States Mint released the 2017 Silver Proof Set (Buy on eBay) with no product or mintage limit. The set included ten coins like the regular proof set for that year except that the Roosevelt Dime, the five American the Beautiful Quarters and the Kennedy Half Dollar were struck in 90% silver.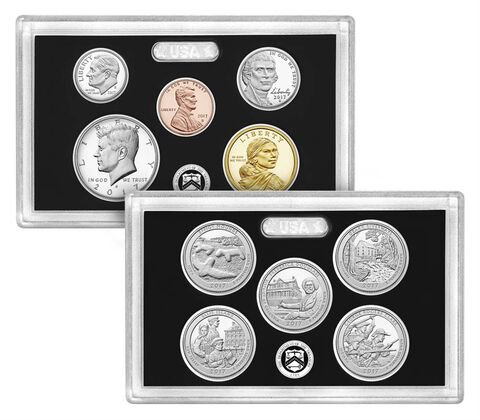 Each set included five America the Beautiful Quarters honoring Effigy Mounds National Monument in Iowa; Frederick Douglass National Historic Site in Washington, D.C.; Ozark National Scenic Riverways in Missouri; Ellis Island and the Statue of Liberty National Monument in New Jersey; and George Rogers Clark National Historic Park in Indiana.
The sets also included a Native American Dollar that features a reverse design with a profile of Sequoyah writing "Sequoyah from Cherokee nation" in syllabary (the Cherokee writing system) along the design's border.
2017 Silver Proof Set Coins
2017 Silver Proof Set Information
Coins per Set: 10
Face Value: $2.91
Silver Content: 1.338 troy oz. (41.616 g)
Original Issue Price: $47.95
Mintage: 358,085
Limited Edition Silver Proof Set
On October 5, 2017, the Mint released the 2017 Limited Edition Silver Proof Set (Buy on eBay) with a product limit of 50,000 and no mintage or household order limited that was priced at $139.95.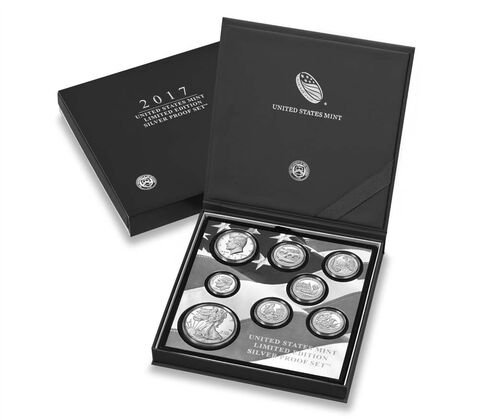 That set included 8 silver coins—each of the 2017 America the Beautiful Quarters plus the Roosevelt Dime, Kennedy Half Dollar and a 2017-S Proof American Silver Eagle. That coin was first sold in the 2017 Congratulations Set.
Each coin carried an "S" mint mark and was struck in 90% silver except the Silver Eagle, which was struck in .999 fine silver.
2017 Limited Edition Silver Proof Set Coins
2017 Limited Edition Silver Proof Set Information
Coins per Set: 8
Face Value: $2.85
Silver Content: 2.337 troy oz. (72.697 g)
Original Issue Price: $139.95
Mintage: 48,901


< 2016 Silver Proof Set | 2018 Silver Proof Set >