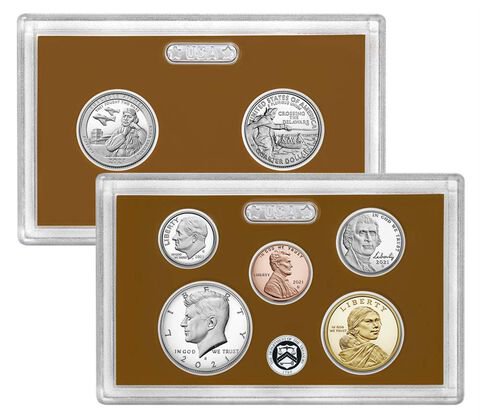 On March 5, 2021, the United States Mint released the 2021 Proof Set (Buy on eBay) at a price of $32.00.
Unlike prior sets that had included 5 Proof quarters from the America the Beautiful series with each set, the 2021 set only had two quarters housed in their own lens. One was the final ATB release for the Tuskegee Airmen National Historic Site in Alabama. The reverse design depicts a Tuskegee Airman pilot suiting up to join the fight during World War II with the Moton Field control tower in the background. The pilot looks upward with pride and confidence as two P- 51 Mustangs pass overhead.
The other quarter was a one-year only General George Washington Crossing the Delaware Quarter featuring an obverse design that marks a return to the familiar depiction of George Washington by John Flanagan as it appeared on the quarter from 1932 to 1998. The image was modified for the 50 State Quarters, the DC and U.S. Territories Quarter, and the America the Beautiful Quarters Programs. In this revived depiction, Washington's portrait is larger, and with higher relief. The reverse featured General George Washington commanding his troops through the overnight crossing of the ice-choked Delaware River prior to the Battle of Trenton during the American Revolutionary War.
The set also as usual included a second lens with Proof versions of the Lincoln cent, Jefferson nickel, Roosevelt dime and Kennedy half dollar.
Of note is the fact that despite included three fewer quarters, the 2020 sets were priced the same as the 2019 sets. And they have had strong sales currently having reached 502,052, and the sets were still on sale as of July 2022. The popularity of the two 2021 quarters, especially the Washington Crossing the Delaware piece seems to have driven sales.
2021 Proof Set Information
Coins per set: 7
Face value: $2.16
Original Issue Price: $32.00
Mintage: 50,205