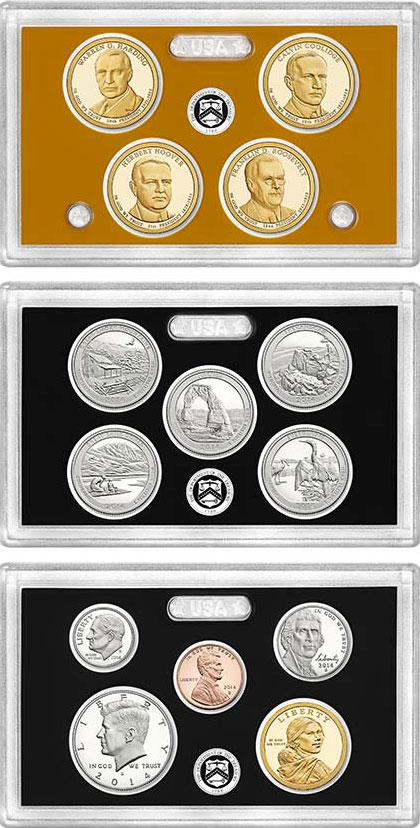 The annual offering of a special set containing 90% silver coins continued with the issuance of the 2014 Silver Proof Set (Buy on eBay). The product featured a similar line up as the prior year with seven silver coins joined by seven additional coins in standard modern compositions.
The silver coins included the 2014-dated Roosevelt Dime, Kennedy Half Dollar, and five America the Beautiful Quarters. For this year, the quarters featured Great Smoky Mountains National Park, Shenandoah National Park, Arches National Park, Great Sand Dunes National Park, and Everglades National Park. Following the format of the series, the obverse of the quarters featured the portrait of George Washington, while the reverse featured a unique design representing the location.
The standard composition coins included the 2014-dated Lincoln Cent, Jefferson Nickel, four Presidential Dollars, and Native American Dollar. For this year, the Presidential Dollars featured the 29th to 32nd Presidents, Warren G. Harding, Calvin Coolidge, Herbert Hoover, and Franklin D. Roosevelt. The obverse of each coin featured a portrait of the President with the reverse carrying a common representation of the Statue of Liberty.
Sales for the 2014 Silver Proof Set officially opened on April 29, 2014. The sets were priced at $53.95, although a discounted price of $48.55 was available for sets ordered through the US Mint's online subscription program. There was no stated product limit or household ordering limit established.
Packaging for this year consisted of three plastic lenses containing the coins along with a certificate of authenticity placed within an illustrated outer box. The box featured imagery of the Washington Monument at sunset on the front and small images representing each of the coins in the set on the back.
The sets remained available throughout the 2014 and 2015 calendar years. When sales finally concluded, the last reported sales figures indicate total distribution of 429,493 units. This represented the second consecutive year of increased sales following the low reached with the 2012 set.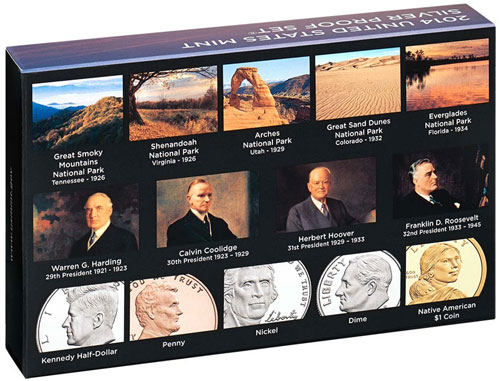 2014 Silver Proof Set Information
Coins Per Set: 14
Face Value: $6.91
Silver Content: 1.33823 troy ounces
Original Issue Price: $53.95
Mintage: 429,493