On February 27, 2020, the United States Mint released the 2020 Proof set (Buy on eBay) priced at $32.95.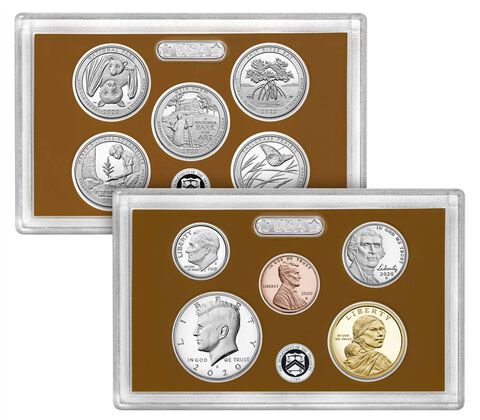 This set included Proof versions of each of the five 2020 America the Beautiful quarters honoring the National Park of American Samoa (American Samoa); Weir Farm National Historic Site (Connecticut); Salt River Bay National Historical Park and Ecological Preserve (United States Virgin Islands); Marsh-Billings-Rockefeller National Historical Park (Vermont); and Tallgrass Prairie National Preserve (Kansas).
The set also included a Native American $1 Coin with a reverse design featuring a portrait of Elizabeth Peratrovich, whose advocacy was considered a deciding factor in the passage of the 1945 Anti-Discrimination Law in the Alaska State Legislature. The foreground features a symbol of the Tlingit Raven moiety, of which she was a member.
The sets further included Proof versions of the 2019 Lincoln cent, Jefferson nickel, Roosevelt dime and Kennedy half dollar plus a special bonus 2020-W Proof Jefferson nickel only available with the set. Those coins were the first-ever nickels struck at the West Point Mint and carrying a "W" mint mark and were issued at the initiative of Mint Director David J. Ryder to help increase the number of collectors of modern U.S. Mint products.
The nickels were packed differently than were the bonus pennies included in the 2019 Proof sets that frequently sustained damage by the time buyers received them because they were loose in plastic packaging. The 2020-W nickel were placed in paper envelopes after being placed in plastic wrap to help protect them, which did seem to mostly have the desired effect.
Cumulative sales for this set were 465,080.
2020 Proof Set Information
Coins per set: 10 plus bonus 2020-W Proof nickel
Face value: $2.92
Original Issue Price: $32.00
Mintage: 464,658