On April 7, 2022, the United States Mint began offering the 2022 Proof set (Buy on eBay) for $32.00.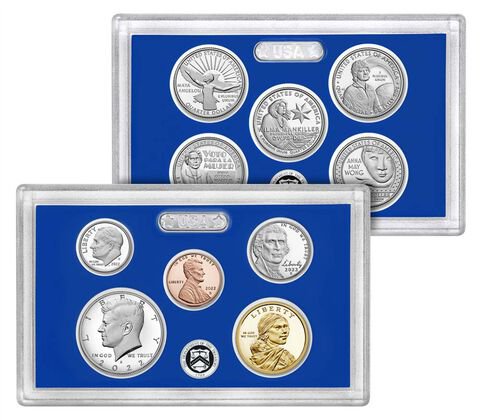 This year marked the debut of the new American Women quarter program that will run through 2025 during which time 20 different quarters will be issued – five per year – honoring American women who made important contributions to a wide range of aspects of the American experience and who represent a diverse group of women.
Designs of each woman appear on the reverses of the coins, while the obverse common to the series features a right facing profile of George Washington by celebrated sculptor Laura Gardin Fraser that was originally intended to be used on the 1932 quarter.
2022 honorees
The 2022 Proof set featured one lens with the five quarters honoring: Maya Angelou – celebrated writer, performer, and social activist; Dr. Sally Ride – physicist and first American woman in space; Wilma Mankiller – first woman to be principal chief of the Cherokee Nation; Nina Otero-Warren – a leader in New Mexico's suffrage movement; and Anna May Wong – first Chinese American woman to be a Hollywood film star, director, and producer.
The set also includes the 2022 Native American $1 coin with a reverse design features Ely S. Parker, depicted in an Army uniform, serving as military secretary to General Ulysses S. Grant during the Civil War. During the surrender at Appomattox, Parker rendered formal surrender documents in his own hand. He is shown with a quill pen, book, and likeness of his signature—symbols of his experience as an expert communicator and his graceful penmanship.
The set further includes a Lincoln cent, Jefferson nickel, Roosevelt dime and Kennedy half dollar all housed in the second lens with the $1 coin and all struck in Proof with deep cameo surfaces.
As of the time of writing, this set was still available for sale and had cumulative sales of 272,063.
2022 Proof Set Information
Coins per set: 10
Face value: $2.91
Original Issue Price: $32.00
Mintage: TBD