The United States Mint opened sales for the 2015 Proof Set (Buy on eBay) on May 14, 2015. This annual set contained Proof versions of fourteen different coins within a packaged set. Each of the coins was struck in Proof quality at the San Francisco Mint and carried the "S" mint mark.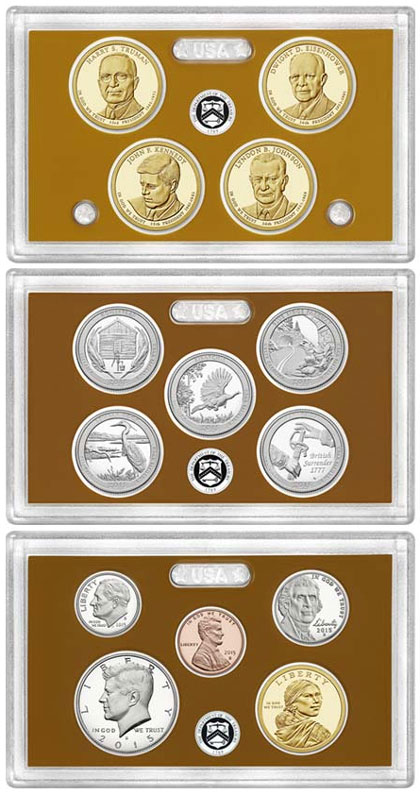 The set included 2015-dated versions of the Lincoln Cent, Jefferson Nickel, Roosevelt Dime, Kennedy Half Dollar, and Native American Dollar. Starting this year, the Kennedy Half Dollar would feature the original restored version of the Gilroy Roberts portrait of President John F. Kennedy. The 2015 Native American Dollar featured a reverse design honoring the Mohawk high ironworkers with a depiction of an ironworker reaching for an I-beam swinging into position against a city skyline.
Also included in the set were the latest five releases of the America the Beautiful Quarters Program. This year's coins featured designs representing Homestead National Monument of America in Nebraska, Kisatchie National Forest in Louisiana, Blue Ridge Parkway in North Carolina, Bombay Hook National Wildlife Refuge in Delaware, and Saratoga National Historical Park in New York.
Finally, the set was completed with the latest four releases of the Presidential Dollar Program. These coins honored the 33rd to 36th Presidents of the United States of America, Harry S. Truman, Dwight D. Eisenhower, John F. Kennedy, and Lyndon B. Johnson.
All fourteen coins of the set were packaged into three protective plastic lenses and placed within an illustrated outer storage box. The box featured an image of the Washington Monument at sunrise on the front and images of the sites and Presidents related to the coins on the back. A certificate of authenticity was included with each set.
The 2015 Proof Set was priced at $32.95 and was offered with no stated maximum mintage and no household ordering limits. Final sales for the product reached 662,900 units, establishing a fresh mintage low for the modern era.
2015 Proof Set Coins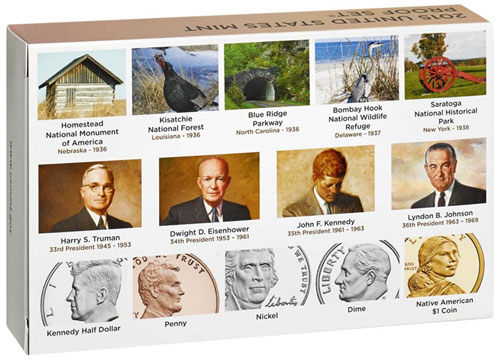 2015 Proof Set Information
Coins per Set: 14
Face Value: $6.91
Original Issue Price: $32.95
Mintage: 662,854



< 2014 Proof Set | 2016 Proof Set >