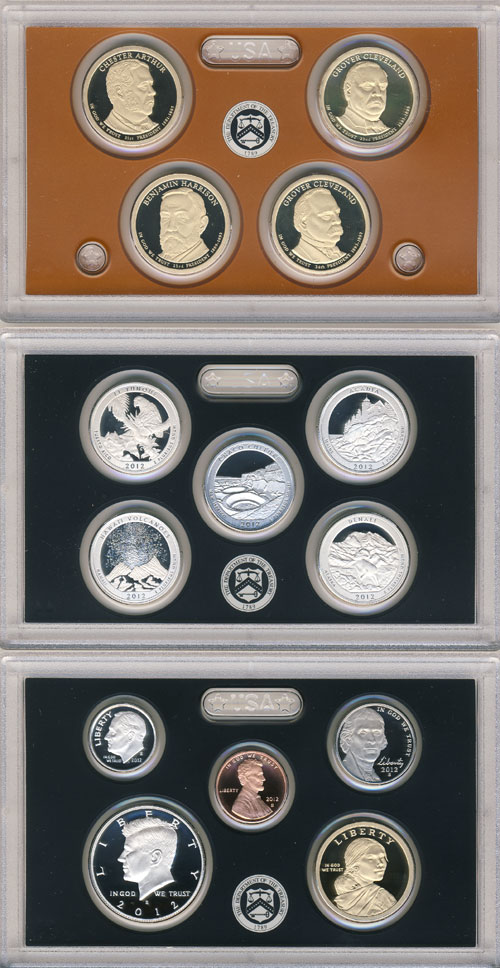 The 2012 Silver Proof Set (Buy on eBay) was the first of the 2012-dated annual sets to unexpectedly sell out with an extremely low level of last reported sales. The shortened period of availability clearly caught some collectors and dealers by surprise and secondary market prices saw an immediate boost.
Each set contained a total of fourteen coins. The clad composition coins included the cent, nickel, four Presidential Dollars, and the Native American Dollar. The coins struck in a special composition of 90% silver included the dime, five America the Beautiful Quarters, and the Kennedy Half Dollar. Together these coins accounted for 1.33823 troy ounces of pure silver content.
The sets originally went on sale at the United States Mint on June 4, 2012. This release date was several months later than the previous year, when the Mint had made a concerted effort to release the most popular annual sets earlier. The sell out occurred on January 2, 2013, resulting in just under seven months of availability. While this duration was not unusual in the history of the offering, it was significantly shorter than recent sets, which had remained available for nearly two years.
Last reported sales for the 2012 Silver Proof Set came in at 395,443. This represented a decline of more than 30% compared to the final sales for the prior year set. More significantly, it established a new mintage low for the modern 90% silver proof set, significantly undercutting the previous low of 549,878 reached in 1995.
Packaging for the set was consistent with the previous year. The coins were arranged into three separate plastic lenses, with those containing silver coins having black inserts. These were placed with a certificate of authenticity in an outer cardboard box containing a statement of the product name against a black background.
2012 Silver Proof Set Information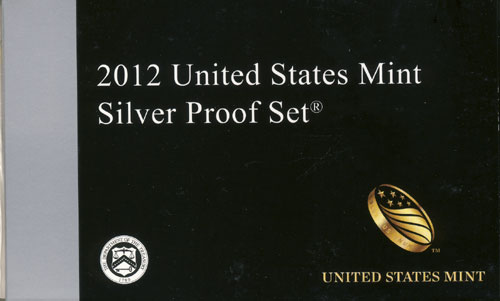 Coins Per Set: 14
Face Value: $6.91
Silver Content: 1.33823 troy ounces
Original Issue Price: $67.95
Mintage: 395,443