The 2018 Proof Set (Buy on eBay) went on sale on March 6, 2018. The set's price was increased by $1 over that of the 2017 set, but the number of coins remained at 10.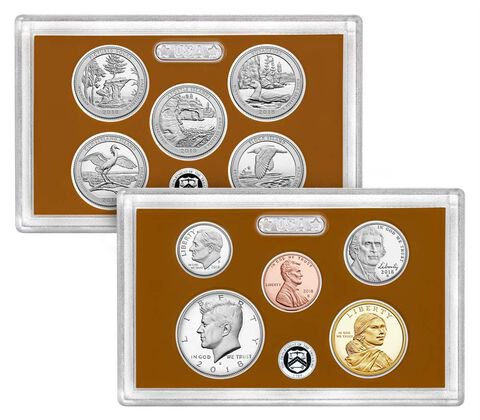 The 2018 set included five America the Beautiful Quarters honoring: Pictured Rocks National Lakeshore in Michigan; Apostle Islands National Lakeshore in Wisconsin; Voyageurs National Park in Minnesota; Cumberland Island National Seashore in Georgia; and Block Island National Wildlife Refuge in Rhode Island.
The set also included a Native American Dollar with a reverse design featuring a profiled likeness of Jim Thorpe, and a foreground highlighting his achievements in football and as an Olympian.
The set further included that year's Kennedy Half Dollar, Roosevelt Dime, Jefferson Nickel, and Lincoln Cent.
The set was housed in two protective lenses, which are placed inside a cardboard box that has a design with the Washington Monument on the front and the back has images of the five national parks honored on the 2018 quarters and of the five other coins.
Each coin is struck in Proof with frosted, sculpted foregrounds against mirrored backgrounds, creating a deep cameo effect, and each coin carries an "S" mint mark for the San Francisco Mint.
2018 Proof Set Coins
2018 Proof Set Information
Coins per Set: 10
Face Value: $2.91
Original Issue Price: $27.95
Mintage: 517,053

< 2017 Proof Set | 2019 Proof Set >