The 1951 Proof Set (Buy on eBay) was the second Proof Set issued by the United States Mint following the gap in production for World War II. Proof coins were sold in complete sets of five coins with no individual Proof coins offered. The sets were priced at $2.10 each for a face value of 91 cents in Proof coins.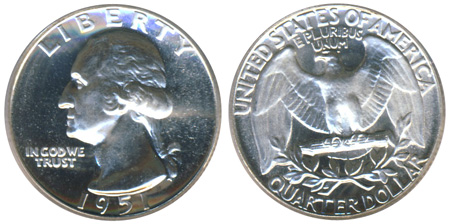 The Philadelphia Mint produced 57,500 of the 1951 Proof Sets. This number topped the previous year by about six thousand. The continually increasing mintages for the Proof Sets would become recurring theme for many years as the popularity of the offering grew with collectors.
Each 1951 Proof Set includes a Proof version of the Franklin Half Dollar, Washington Quarter, Roosevelt Dime, Jefferson Nickel, and Lincoln Cent. Most Proof coins from 1951 are found with brilliant finishes, as opposed to cameo or deep cameo finishes which are rare. For this year, deep cameo coins are exceedingly rare and command large premiums.
The original packaging for the Proof Sets remained unchanged from the prior year. Each of the five coins was placed in an individual cellophane sleeve with the group stapled at the top. This was wrapped in tissue paper, placed within a small square cardboard box, and sealed shut with tape.
Not all 1951 Proof Sets survive in the original state, as many were transferred to more durable plastic holders over the years.
1951 Proof Set Coins
1951 Proof Set Information
Coins per Set: 5
Face Value: $0.91
Original Issue Price: $2.10
Mintage: 57,500

< 1950 Proof Set | 1952 Proof Set >