The 2018 Silver Proof Set (Buy on eBay) was released by the U.S. Mint on April 24, 2018 with no mintage, product or household limit at a price of $49.95, which is $2 more than the price of the 2017 set that included the same number of coins.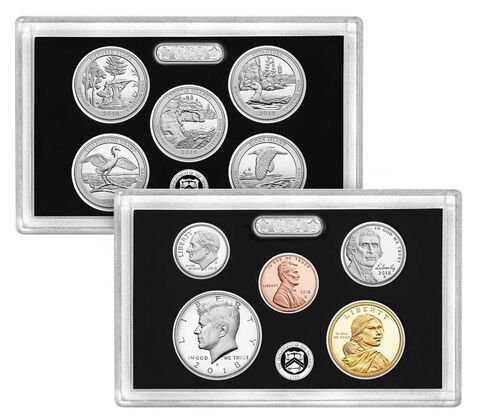 The set included silver versions of five America the Beautiful Quarters honoring: Pictured Rocks National Lakeshore in Michigan; Apostle Islands National Lakeshore in Wisconsin; Voyageurs National Park in Minnesota; Cumberland Island National Seashore in Georgia; and Block Island National Wildlife Refuge in Rhode Island.
The set also included a Native American Dollar with a reverse design featuring a profiled likeness of Jim Thorpe, and a foreground highlighting his achievements in football and as an Olympian.
The set further included that year's Kennedy Half Dollar and Roosevelt Dime struck in silver, plus the Jefferson Nickel and Lincoln Cent.
Each coin is struck in Proof with deeply reflective surfaces and frosted devices at the San Francisco Mint and carries an "S" mint mark, and the set is housed in two protective lenses. The outer box is the same as that for the regular Proof Set but with a black background.
2018 Silver Proof Set Coins
2018 Silver Proof Set Information
Coins per Set: 10
Face Value: $2.91
Silver Content: 1.338 troy oz. (41.616 g)
Original Issue Price: $49.95
Mintage: 517,053
Limited Edition Set
The 2018 Limited Edition Silver Proof Set (Buy on eBay) went on sale on October 18, 2018. It had a product limit of 50,000 but no mintage or household order limit and was priced at $144.95, which is $5 more than the prior year's set.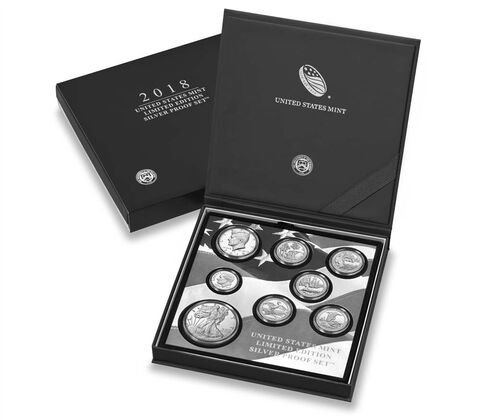 The set included 8 silver coins, including all five 2018 America the Beautiful Quarters plus the Roosevelt Dime and Kennedy Half Dollar—each in 90% silver—along with the 2018-S Proof American Silver Eagle struck in .999 fine silver.
Each set is housed in a special luxury case designed for the Limited Edition Set, and each coin comes in its own individual capsule.
2018 Limited Edition Silver Proof Coins
2018 Limited Edition Silver Proof Set Information
Coins per Set: 8
Face Value: $2.85
Silver Content: 2.337 troy oz. (72.697 g)
Original Issue Price: $144.95
Mintage: 49,480
50th Anniversary Set
On July 23, 2018, to mark the 50th anniversary of the modern San Francisco Mint that has been in operation since 1968, the Mint also issued a special 50th Anniversary Silver Reverse Proof Set (Buy on eBay)—the one and only time such a set has been issued.
Sold for $54.95 with a mintage and product limit of 200,000 sets but no household order limit. First day sales were 106,108 sets, or over half of the maximum authorized mintage. The sets went off sale on August 21, but due to returns, more sets became available later. The sets sold out around the end of October.
While the composition of each coin in this special set was the same as that of the 2018 Silver Proof Set, each of the 7 silver coins (five quarters, the dime and half dollar) were struck with a Reverse Proof finish in which the design elements are mirrored while the background is frosted—the opposite of the way regular Proof coins are made.
The sets have been secondary market winners. Once they were no longer available from the Mint, they sold on the retail market for about twice issue price, and they have continued to maintain the same premium since then.
2018 50th Anniversary Silver Reverse Proof Set Coins
2018 50th Anniversary Silver Reverse Proof Set Information
Coins per Set: 10
Face Value: $2.91
Silver Content: 1.338 troy oz. (41.625 g)
Original Issue Price: $54.95
Mintage: 199,116

< 2017 Silver Proof Set | 2019 Silver Proof Set >