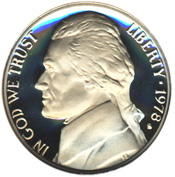 Proof Set mintages have expanded greatly since the collector coins were reintroduced by the United States Mint in 1936. After beginning at the low level of just 3,837, production levels spiraled higher in subsequent years as demand for the product expanded. A temporary peak would be reached in 1964 when nearly 4 million sets were produced and sold. A new all time high mintage would be achieved in 1976 when the redesign of the quarter dollar, half dollar, and dollar coins caused heightened interest in the sets.
In recent years, the United States Mint has added to their line of proof sets with the special composition Silver Proof Sets, as well as component sets containing all of the different designs released for a particular denomination. The demand for these additional products has always fallen below the levels for the traditional annual proof set, however they may have served to cannibalize a portion of sales. The pattern of declining sales culminated with the 2012 Proof Set and 2012 Silver Proof Set, which marked the lowest mintage levels in decades.
The tables below present Proof Set mintages based on available data. In the case of the 1936-1942 proof sets, the mintages indicate the maximum number of sets that could be created, since coins were also sold individually. Figures will be updated for newer releases upon the conclusion of sales at the US Mint.
Proof Set Mintages
| Year of Issue | Mintage |
| --- | --- |
| 1936 | 3,837 |
| 1937 | 5,542 |
| 1938 | 8,045 |
| 1939 | 8,795 |
| 1940 | 11,246 |
| 1941 | 15,287 |
| 1942 | 21,120 |
| 1950 | 51,386 |
| 1951 | 57,500 |
| 1952 | 81,980 |
| 1953 | 128,800 |
| 1954 | 233,300 |
| 1955 | 378,200 |
| 1956 | 669,384 |
| 1957 | 1,247,952 |
| 1958 | 875,652 |
| 1959 | 1,149,291 |
| 1960 | 1,691,602 |
| 1961 | 3,028,244 |
| 1962 | 3,218,019 |
| 1963 | 3,075,645 |
| 1964 | 3,950,762 |
| 1968 | 3,041,506 |
| 1969 | 2,934,631 |
| 1970 | 2,632,810 |
| 1971 | 3,220,733 |
| 1972 | 3,260,996 |
| 1973 | 2,760,339 |
| 1974 | 2,612,568 |
| 1975 | 2,845,450 |
| 1976 | 4,149,730 |
| 1977 | 3,251,152 |
| 1978 | 3,127,781 |
| 1979 | 3,677,175 |
| 1980 | 3,554,806 |
| 1981 | 4,063,083 |
| 1982 | 3,857,479 |
| 1983 | 3,138,765 |
| 1984 | 2,748,430 |
| 1985 | 3,362,821 |
| 1986 | 2,411,180 |
| 1987 | 3,972,233 |
| 1988 | 3,031,287 |
| 1989 | 3,009,107 |
| 1990 | 2,793,433 |
| 1991 | 2,610,833 |
| 1992 | 2,675,618 |
| 1993 | 2,409,394 |
| 1994 | 2,308,701 |
| 1995 | 2,010,384 |
| 1996 | 1,695,244 |
| 1997 | 1,975,000 |
| 1998 | 2,086,507 |
| 1999 | 2,543,401 |
| 2000 | 3,082,572 |
| 2001 | 2,294,909 |
| 2002 | 2,319,766 |
| 2003 | 2,172,684 |
| 2004 | 1,798,488 |
| 2005 | 2,275,000 |
| 2006 | 2,000,428 |
| 2007 | 1,702,116 |
| 2008 | 1,382,017 |
| 2009 | 1,482,502 |
| 2010 | 1,103,815 |
| 2011 | 1,098,835 |
| 2012 | 794,002 |
| 2013 | 802,460 |
| 2014 | 714,661 |
| 2015 | 662,900 |
Silver Proof Set Mintage
| Year of Issue | Mintage |
| --- | --- |
| 1976 | 3,998,621 |
| 1992 | 1,009,586 |
| 1993 | 570,213 |
| 1994 | 636,009 |
| 1995 | 549,878 |
| 1996 | 623,655 |
| 1997 | 605,473 |
| 1998 | 638,134 |
| 1999 | 804,565 |
| 2000 | 965,421 |
| 2001 | 889,697 |
| 2002 | 892,229 |
| 2003 | 1,125,755 |
| 2004 | 1,175,934 |
| 2005 | 1,069,679 |
| 2006 | 1,054,008 |
| 2007 | 875,050 |
| 2008 | 763,887 |
| 2009 | 697,365 |
| 2010 | 585,401 |
| 2011 | 574,175 |
| 2012 | 395,443 |
| 2013 | 419,720 |
| 2014 | 429,493 |
| 2015 | 387,414 |