The United States Mint began sales of the 2011 Silver Proof Set (Buy on eBay) on January 25, 2011, which was several months earlier than typical. Other core annual sets were also released early in a concerted effort to make the most popular products available throughout the entire calendar year.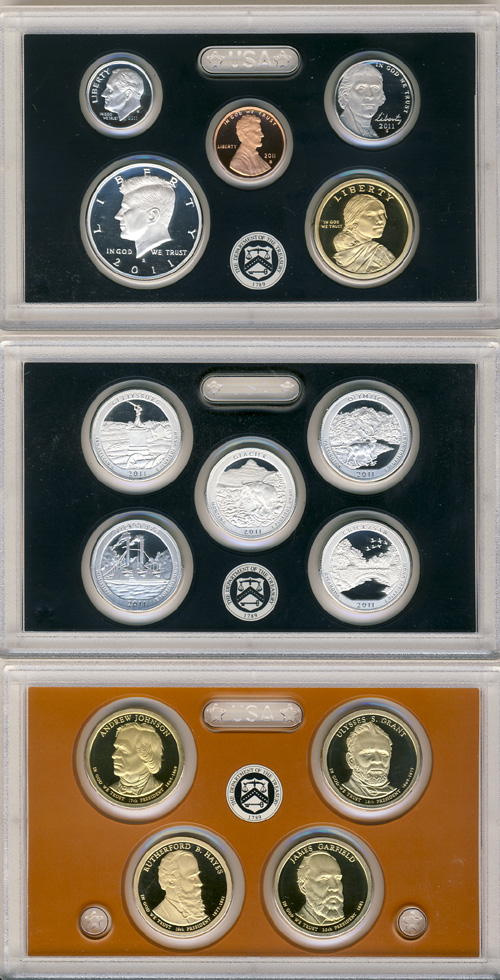 Each set included Proof versions of 14 different coins, with seven struck in a composition of 90% silver. The silver coins were the Roosevelt Dime, five America the Beautiful Quarters, and Kennedy Half Dollar. The remaining coins were struck in their standard composition and are identical to those found within the standard version of the set.
The set was released during a tumultuous period for the market price of silver, which caused disruptions in the product offering. At the time of the start of sales, silver was under $30 per ounce. After silver vaulted above $40 per ounce, product sales were suspended pending a pricing increase. However, the price of silver soon receded allowing sales to be resumed without any change. The same situation occurred a second time during the year.
Amidst these interruptions, the 2011 Silver Proof Set continued to be offered by the U.S. Mint for the duration of the year of issue and into the following year. Sales were not officially concluded until a "Last Opportunity Sale" ended on December 31, 2012.
Despite the extended duration of the offering, final sales reached 574,175, representing a slight decline from the prior year.
Following a newly adopted brand identity, the packaging for the Silver Proof Set was redesigned. Coins were still included in three plastic lenses, but the inserts were black for those containing silver coins. The outer box was also black with the U.S. Mint's new logo.
2011 Silver Proof Set Coins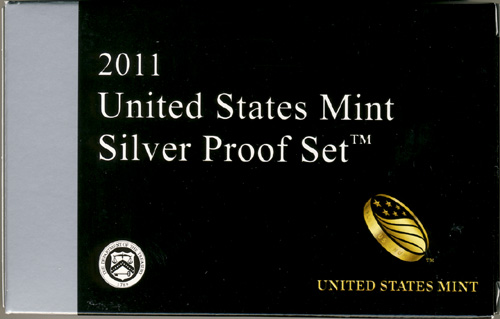 2011 Silver Proof Set Information
Coins per Set: 14
Face Value: $6.91
Silver Content: 1.338 troy oz. (41.616 g)
Original Issue Price: $67.95
Mintage: 574,175



< 2010 Silver Proof Set | 2012 Silver Proof Set >