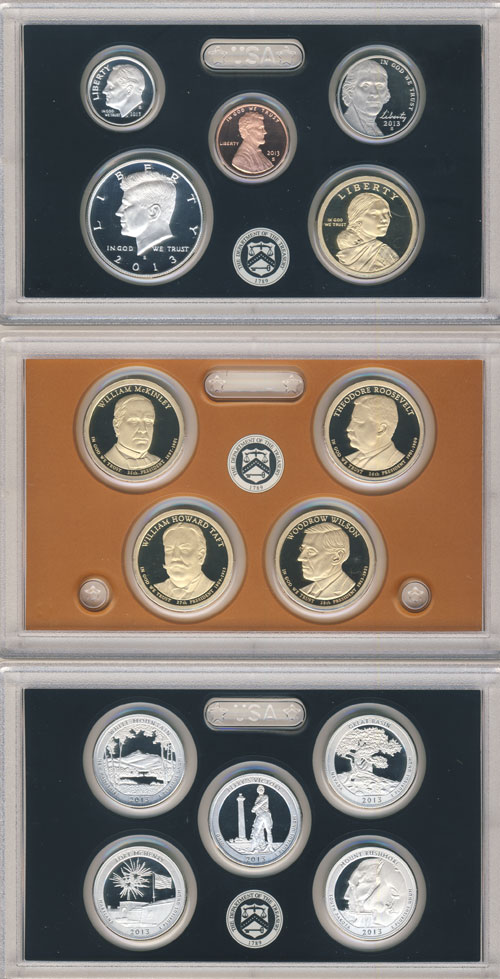 The United States Mint opened sales for the 2013 Silver Proof Set (Buy on eBay) on May 2, 2013. Sales for the product would show a slight rebound compared to the historically low mintage of the prior year set.
Each set contained a total of fourteen different coins, with seven of the coins struck in a special composition of 90% silver. The standard composition coins included the 2014-dated Lincoln Cent, Jefferson Nickel, William McKinley Dollar, Theodore Roosevelt Dollar, William Howard Taft Dollar, Woodrow Wilson Dollar, and Native American Dollar. The coins struck in 90% silver included the 2014-dated Roosevelt Dime, White Mountain National Forest Quarter, Perry's Victory Quarter, Fort McHenry Quarter, Mount Rushmore Quarter, and Kennedy Half Dollar.
The seven coins contained 1.33823 troy ounces of pure silver content. Since this silver content was a major contributor to the price of the set, the falling market price of silver resulted in a price reduction.
When the set originally went on sale, it was priced at $67.95, unchanged from the prior year. Less than a month later, the US Mint reduced the pricing for numerous silver products including the 2013 Silver Proof Set, which saw its price reduced to $60.95 per set.
The sets would remain available for the rest of the calendar year and eventually sell out the following year in early February. The last reported sales reached 419,720, coming in slightly ahead of the prior year.
The United States Mint would also offer the 2013 Limited Edition Silver Proof Set, which contained the seven 90% silver coins along with the Proof American Silver Eagle. This product was limited to 50,000 sets and achieved a full sell out.
2013 Silver Proof Set Information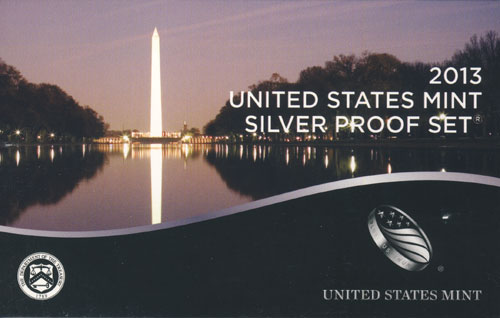 Coins Per Set: 14
Face Value: $6.91
Silver Content: 1.33823 troy ounces
Original Issue Price: $67.95
Mintage: 419,720