The United States Mint opened sales for the 2013 Proof Set (Buy on eBay) on March 28, 2013. The release of the full set followed the earlier release of the majority of the Proof coins within other component Proof Sets and a new line of gift themed products.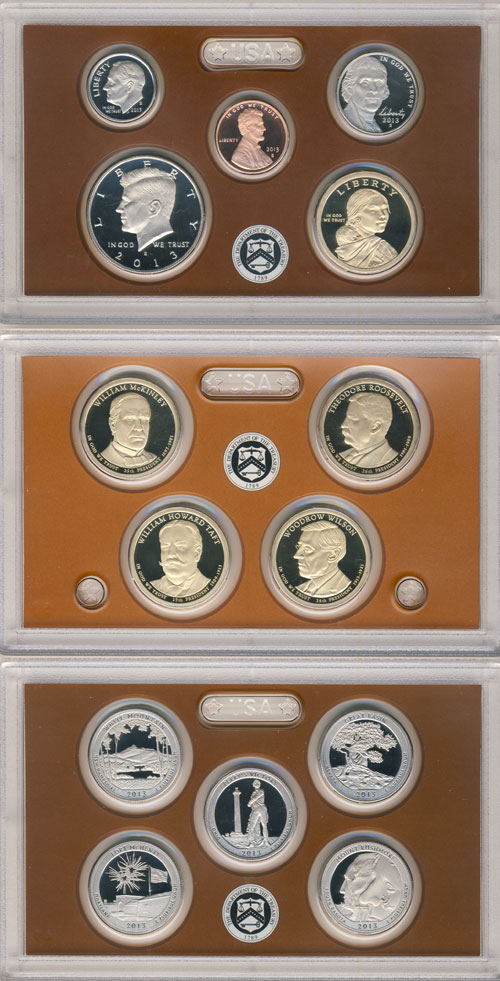 The full annual set included a total of fourteen different coins spanning six denominations. The static designs for the Lincoln Cent, Jefferson Nickel, Roosevelt Dime, and Kennedy Half Dollar were accompanied by the latest designs for three additional series. The America the Beautiful Quarters featured designs representing White Mountain National Forest, Perry's Victory International Peace Memorial, Great Basin National Park, Fort McHenry National Monument, and Mount Rushmore National Memorial. The Presidential Dollars honored the former Presidents William McKinley, Theodore Roosevelt, William Howard Taft, and Woodrow Wilson. Finally, the Native American Dollar featured design commemorating the Treaty with the Delawares.
The coins of the set were packaged into three separate plastic lenses, which allowed both sides as well as the edges of the coins to be viewed. These were placed into a newly redesigned outer cardboard box with a certificate of authenticity. Starting this year, the boxes would feature an image of the Washington Monument at sunset on the front and images representing each of the coin's subjects on the back.
As mentioned, the Proof coins included in the set were also issued in a number of other products. During the year, the U.S. Mint released the 2013 America the Beautiful Quarters Proof Set, 2013 Presidential Dollars Proof Set, and 2013 Birth Set, along with other silver based sets.
The 2013 Proof Set was priced at $31.95 each with no stated product limits or household ordering limits imposed. The sets would remain available for sale until July of the following year. Last reported sales for the product reached 802,460, representing a slight rebound from the low level of the prior year.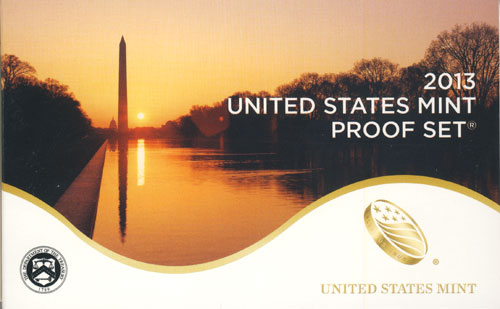 2013 Proof Set Coins
2013 Proof Set Information
Coins per Set: 14
Face Value: $6.91
Original Issue Price: $31.95
Mintage: 802,460


< 2012 Proof Set | 2014 Proof Set >