Demand for Proof coinage resumed its rapid upward course with the 1940 Proof Set (Buy on eBay). This represented the first year that mintages for all denominations were above the 10,000 level. During this era, the United States Mint offered Proof coins either individually or as a complete set. The specially produced coins were becoming increasingly popular with collectors of the era.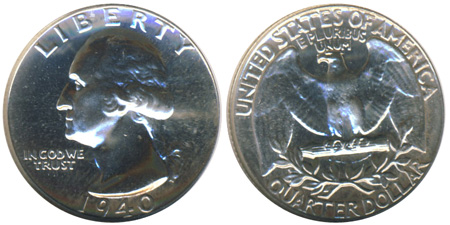 The United States Mint produced Proof Walking Liberty Half Dollars, Washington Quarters, Mercury Dimes, Jefferson Nickels, and Lincoln Cents. As compared to previous years, sales by individual coin showed less variance. The mintage for the 1940 Proof Set is usually stated as 11,246 since that is the level of the lowest mintage individual coin.
The Proof coins of 1940 are found predominantly with brilliant Proof finishes. It is extremely rare to encounter coins with cameo Proof devices and these coins command substantial premiums. The 1940 Proof Jefferson Nickel is found in two varieties, "Reverse of 1938" and "Reverse of 1940." The later is the rarer of the two and features a thick top step on the Monticello reverse.
The 1940 Proof Sets were packaged based on customer order and as a result could show some variance. Individual coins were placed within cellophane sleeves, stapled at the top, wrapped in tissue paper, and placed within an envelope or box. Most Proof coins from this era are encountered in privately produced holders or third party grading company holders such as PCGS or NGC.
1940 Proof Set Coins
1940 Proof Set Information
Coins per Set: 5
Face Value: $0.91
Original Issue Price: $1.89
Mintage: 11,246

< 1939 Proof Set | 1941 Proof Set >