On June 20, 2023, the United States Mint began offering the 2023 Proof Set (Buy on eBay) for $35.00, $3 higher than the 2022 Proof Set. The 2023 Proof Set had no mintage, product, or household order limit.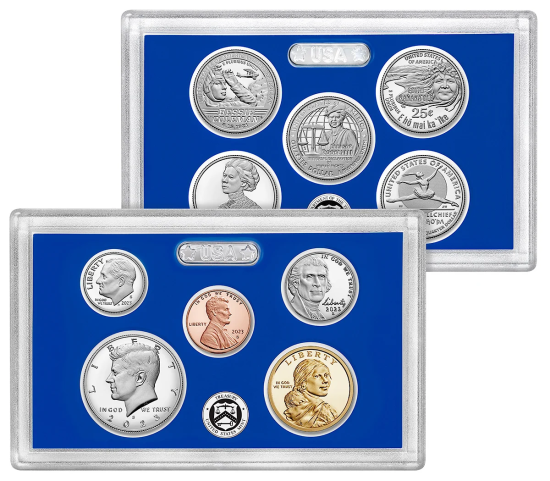 The 2023 Proof Set includes all five coins issued in the second year of the American Women Quarter Program. The American Women Quarter Program is set to run through 2025, during which 20 different quarters will be issued at a rate of five per year, honoring a diverse group of American women who made significant contributions to a wide range of aspects of the American experience.
Designs of each woman appear on the reverses of the coins, while the obverse common to the series features a right-facing profile of George Washington by celebrated sculptor Laura Gardin Fraser that was originally intended to be used on the 1932 quarter.
The 2023 Proof Set features one lens with the five quarters honoring legendary pilot Bessie Coleman, Hawaiian composer and singer Edith Kanak'ole, former first lady and human rights activist Eleanor Roosevelt, Mexican-American activist and journalist Jovita Idar, and first American prima ballerina Maria Tallchief.
The set also includes a second lens that features the 2023 Native American Dollar with a reverse design depicting the first American prima ballerina, Maria Tallchief, and four other dancers all in ballerina poses. It also includes a Lincoln Cent, Jefferson Nickel, Roosevelt Dime, and Kennedy Half Dollar, all struck in Proof with deep cameo surfaces.
2023 Proof Set Coins
2023-S Proof Native American Dollar
2023 Proof Set Information
Coins per Set: 10
Face Value: $2.91
Original Issue Price: $35.00
Mintage: 331,314
Mintages based on U.S. Mint sales figures as of November 16, 2023