The 2010 Proof Set (Buy on eBay) marked the debut of a new series of circulating commemorative quarter dollars, following the conclusion of the separate programs featuring the states and territories. The new America the Beautiful Quarters would feature a different National Park or site from each of the states and territories over the course of twelve years. Unfortunately, the reaction to the new series and impact on numismatic sales was considerably less enthusiastic than the State Quarters launch in1999.

The price for the basic annual Proof Set was $31.95, representing an increase of $2 despite the reduced number of coins per set. Sales began on July 22, 2010 and eventually concluded on December 30, 2011. During this lengthy period of availability, total sales reached 1,103,815, representing a significant move lower compared to the previous year.
While the highlights of the 2010 Proof Set were the new quarter dollars featuring Hot Springs National Park, Yellowstone National Park, Yosemite National Park, Grand Canyon National Park, and Mount Hood National Forest, new designs were also included for other series. The 2010 Lincoln Cent features the Union Shield, which was adopted as the new permanent reverse design for the coin for the foreseeable future. The 2010 Native American Dollar continued the annual rotating designs commemorating contributions and accomplishments of Native Americans. The four different Presidential Dollars for the year featured Millard Fillmore, Franklin Pierce, James Buchanan, and Abraham Lincoln.
Coins included in the set with familiar designs were the Jefferson Nickel, Roosevelt Dime, and Kennedy Half Dollar.
Packaging for the 2010 Proof Set underwent a change to coincide with the launch of the new America the Beautiful Quarter Program. The Proof coins were sealed in three separate lenses, containing the quarters, the Presidential Dollars, and the remaining coins. These lenses were placed in a cardboard box illustrated with a picture of the San Francisco Mint. A certificate of authenticity was included with each set.
2010 Proof Set Coins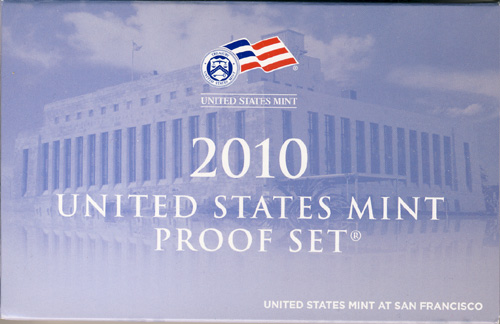 2010 Proof Set Information
Coins per Set: 14
Face Value: $6.91
Original Issue Price: $29.95
Mintage: 1,103,815


< 2009 Proof Set | 2011 Proof Set >