On Mar 1, 2019, the United States Mint began selling the 2019 Proof Set (Buy on eBay) for $27.95. The set included that year's 5 America the Beautiful Quarters honoring Lowell National Historical Park (Massachusetts), American Memorial Park (Commonwealth of the Northern Mariana Islands), War in the Pacific National Historical Park (Guam), San Antonio Missions National Historical Park (Texas), and Frank Church River of No Return Wilderness (Idaho).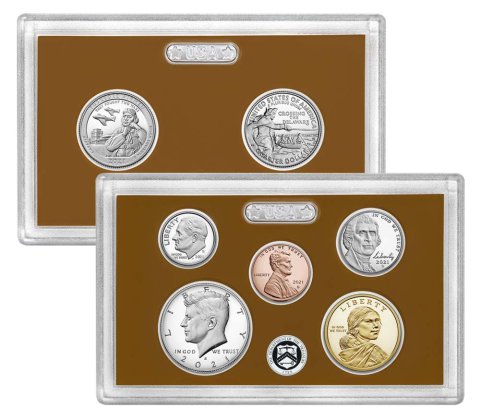 The set also included a Native American Dollar with a reverse design depicting Mary Golda Ross writing calculations. Behind her, an Atlas-Agena rocket launches into space, with an equation inscribed in its cloud. An astronaut, symbolic of Native American astronauts, including John Herrington, spacewalks above. In the field behind, a group of stars indicates outer space.
The set further included a Lincoln Cent, Jefferson Nickel, Roosevelt Dime and Kennedy Half Dollar all struck in Proof like every coin in this set and housed in two protective lenses—one for the quarters and one for the other five coins.
In addition, a special bonus was included with each set—a 2019-W Lincoln Cent also struck in Proof and only available through this set. The cent was packaged in clear plastic wrap. That coin was the first Lincoln cent ever to carry a West Point "W" mint mark, and its inclusion in the 2019 Proof Set helped to stimulate greater interest in the set and pushed sales to almost double the level of the 2018 Proof set.
Sales of the set for the first three days it was available reached 190,767, and cumulative sales of the set eventually totaled 600,423.
2019 Proof Set Coins
2019 Proof Set Information

< 2018 Proof Set | 2020 Proof Set >