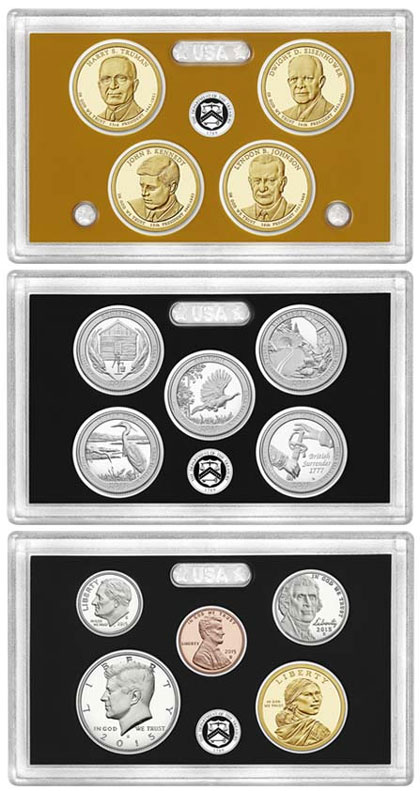 The 2015 Silver Proof Set (Buy on eBay) continued the long running annual set offering containing 90% silver coinage. Each set included fourteen different coins with seven of the coins struck in the traditional composition of 90% silver.
The silver coins included in the set consisted of the 2015 Roosevelt Dime, 2015 Kennedy Half Dollar, and the five 2015 America the Beautiful Quarters. For this year, the Kennedy Half Dollar saw the restoration of the original portrait of President John F. Kennedy created by Gilroy Roberts. The America the Beautiful Quarters carried designs representing Homestead National Monument of America in Nebraska, Kisatchie National Forest in Louisiana, Blue Ridge Parkway in North Carolina, Bombay Hook National Wildlife Refuge in Delaware, and Saratoga National Historical Park in New York.
Each set was completed with seven additional coins struck in their current standard compositions. These coins included the 2015 Lincoln Cent, 2015 Jefferson Nickel, 2015 Native American Dollar, and the four 2015 Presidential Dollars. This year's Native American Dollar carried a reverse design featuring the image of a Mohawk high ironworker reaching for an I-beam as it swings into positions against the background of a city skyline. The Presidential Dollars featured portraits of Presidents Harry S. Truman, Dwight D. Eisenhower, John F. Kennedy, and Lyndon B. Johnson.
All fourteen coins were struck at the San Francisco Mint and carried the "S" mint mark.
The packaging for the set consisted of three protective plastic lenses containing the coins. These were placed into an outer cardboard box featuring an image of the Washington Monument at sunrise on the front and images related to the coins on the back.
The United States Mint began sales of the 2015 Silver Proof Set on March 24, 2015 at the original issue price of $53.95. The Mint did not establish a maximum mintage or household ordering limits for the offering. When the offering was concluded, sales had reached 387,414 units, establishing a fresh mintage low for the modern era.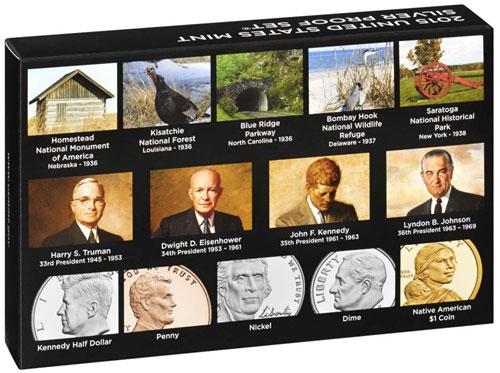 2015 Silver Proof Set Information
Coins Per Set: 14
Face Value: $6.91
Silver Content: 1.33823 troy ounces
Original Issue Price: $53.95
Mintage: 387,414