On June 23, 2022, the United States Mint released the 2022 Silver Proof Set (Buy on eBay) priced at $105.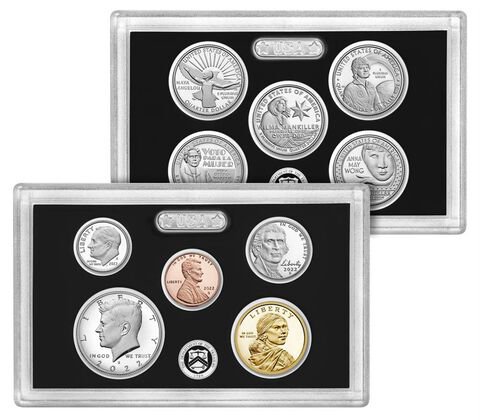 Like the regular 2022 Proof Set, this one included one lens with the five American Women Quarters for 2022 depicting on their reverses Maya Angelou, Dr. Sally Ride, Wilma Mankiller, Nina Otero-Warren and Anna May Wong but struck in .999 fine silver Proof.
Those coins were also sold in March separately in the 2022 American Women Quarters Silver Proof Set for $73. Orders for that set totaled by early July 56,739. Sales of the American Women Quarter rolls and bags have been especially strong with each one selling out primarily through enrollments for those products, and secondary market prices have increased substantially, especially for the three-roll sets that are the only way to purchase uncirculated examples struck at the San Francisco Mint.
The 2022 Silver Proof Set also included a second lens with silver versions of the Roosevelt Dime and Kennedy Half Dollar and Proof versions of the Lincoln Cent, Jefferson Nickel and Native American Dollar that honors Ely S. Parker, who served as a military secretary to General Ulysses S. Grant during the Civil War in their standard composition.
2022 Silver Proof Set Coins
2022-S Silver Proof Kennedy Half Dollar
2022-S Proof Native American Dollar
2022 Silver Proof Set Information
Coins per Set: 10
Face Value: $2.91
Silver Content: 1.473 troy oz. (45.815 g)
Original Issue Price: $105
Mintage: 244,167
Mintage numbers based on U.S. Mint sales figures as of August 22, 2023
2022 Limited Edition Silver Proof Set
On October 26, 2022, the U.S. Mint started issuing the 2022 Limited Edition Silver Proof Set (Buy on eBay) with a product limit of 50,000 for $220 per set, a $15 discount from the prior year's Limited Edition Set, despite having one more coin.
Unlike the 2021 Limited Edition Silver Proof, the 2022 sets did not have a household limit, and the sets included .999 fine silver versions of the Roosevelt Dime and Kennedy Half Dollar, as well as silver versions for all five of the new 2022 American Women Quarters.
In addition, this year's Limited Edition Silver Proof Set also included the famous American Silver Eagle. However, unlike the previous year, the set only included one version of the Silver Eagle—the 2022-S Proof American Silver Eagle—with the Mint electing to continue the series with the 2021 American Silver Eagle Type 2 reverse design as the new reverse design for the Silver Eagle moving forward.
Each coin in the set comes included with a display case and is housed in its own individual protective capsule.
2022 Limited Edition Silver Proof Set Coins
2022-S Silver Proof Kennedy Half Dollar
2022 Limited Edition Silver Proof Set Information
Coins per Set: 8
Face Value: $2.85
Silver Content: 2.473 troy oz. (76.919 g)
Original Issue Price: $220
Mintage: 47,094
Mintage numbers based on U.S. Mint sales figures as of August 22, 2023