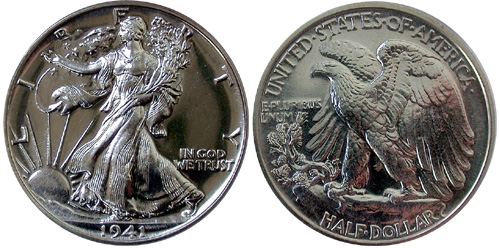 1941 US Mint Proof Set
The 1941 Proof Set (Buy on eBay) would be the second to last set issued before another lapse in production by the United States Mint. This gap in the series was unfortunate, as collectors had continued to purchase the specially struck coins in increasing quantities. For this year, the mintage of each denomination was exceeded the 15,000 mark.
As has been the case, the Philadelphia Mint struck proof versions of each coin issued for circulation during the year. This included the Walking Liberty Half, Washington Quarter, Mercury Dime, Jefferson Nickel, and Lincoln Cent. The proof coins could be ordered either individually or within a complete set, which resulted in a variance in mintage across the various denominations. The most popular coins were the one cent and five cent coins.
The mintage for the 1941 Proof Set is typically stated as 15,287, which represents the lowest mintage of an individual proof coin for this year.
Most 1941 proof coins will be found with brilliant finishes. During this era it was extremely uncommon for coins to be struck with cameo proof finishes, which would be found in later years. The Proof Walking Liberty Half Dollar for this year is found with or without the designers initial "AW" on the reverse. The letters were removed due to over polishing the coin die.
Original packaging varied based on the customer order and was rarely retained by the collector. Typically, each coin ordered would be placed within an individual sleeve, stapled at the top, wrapped in paper, and placed within an envelope or box. Most 1941 proof coins will now be encountered in privately produced plastic holders or third party grading holders.
1941 Proof Coin Mintages
1941 Proof Lincoln Cent: 21,100
1941 Proof Jefferson Nickel: 18,720
1941 Proof Mercury Dime: 16,557
1941 Proof Washington Quarter: 15,287
1941 Proof Walking Liberty Half Dollar: 15,412
1941 Proof Set Information
Coins per Set: 5
Face Value: $0.91
Original Issue Price: $1.89
Mintage: see above