The 2016 Proof Set (Buy on eBay) was released by the United States Mint on April 1, 2016. This set saw a reduction in the number of coins included coinciding with the completion of the Presidential Dollar Program.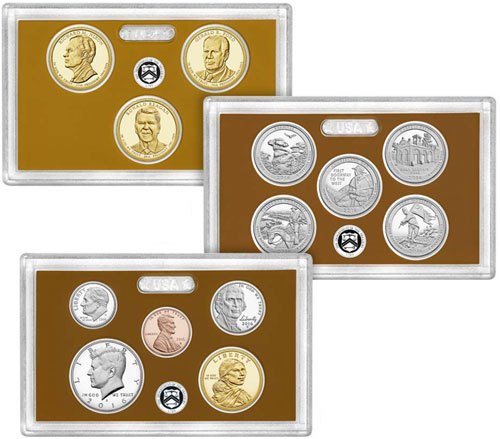 Each set included the three 2016 Presidential Dollars honoring the 37th, 38th, and 40th Presidents of the United States Richard M. Nixon, Gerald R. Ford, and Ronald Reagan. Under the authorizing legislation for the program, coins were to be issued for any former President deceased for two or more years. These were the final three former Presidents who met the criteria to be honored on a coin within the series.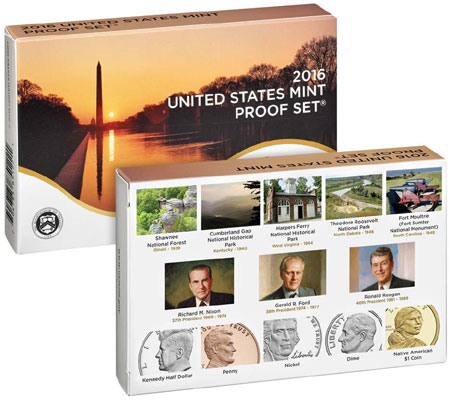 The sets further included coins for ongoing series with rotating designs. The America the Beautiful Quarters Program saw the release of five different coins featuring Shawnee National Forest in Illinois, Cumberland Gap National Historical Park in West Virginia, Harpers Ferry National Historical Park in West Virginia, Theodore Roosevelt National Park in North Dakota, and Fort Moultrie (Fort Sumter National Monument) in South Carolina. The latest issue of the Native American Dollar series featured a reverse design honoring the Native American Code Talkers of World War I and World War II.
Finally, the sets contained the 2016-dated Lincoln Cent, Jefferson Nickel, Roosevelt Dime, and Kennedy Half Dollar.
All thirteen coins were struck in Proof format with frosted raised elements and inscriptions against a brilliant, mirrored background. The coins were produced at the San Francisco Mint and carry the "S" mint mark.
Pricing for the 2016 Proof Set was $31.95 per set. This reflected a price decline of $1 per set compared to the prior year. The price was lowered due to the fact that there was one fewer $1 coin included in the set for this year due to the completion of the Presidential Dollar Program.
Packaging for the set remained similar to prior years with three individual plastic lenses containing the coins placed in an outer cardboard box. The box was illustrated with an image of the Washington Monument at sunset on the front and information about the coins included in the set on the back. A paper certificate of authenticity was also provided.
2016 Proof Coin Set
2016 Proof Set Information
Coins per Set: 13
Face Value: $5.91
Original Issue Price: $31.95
Mintage: 575,183

< 2015 Proof Set | 2017 Proof Set >