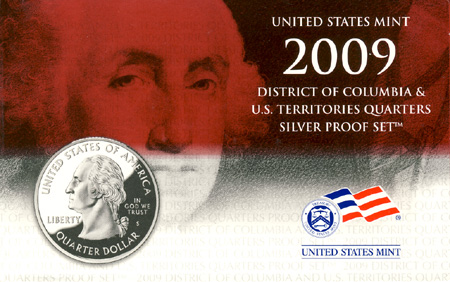 With the introduction of the 50 State Quarters Program in 1999, the United States Mint began offering a new type of proof set product. Component sets were made available, which contained each one of the designs issued for the denomination for that year. Similar sets were later made available for the start of the Presidential Dollars Program in 2007. These Quarters and Presidential Dollars Proof Sets have been popular with collectors of each respective series.
The State Quarters Proof Sets (Buy on eBay) were offered by the US Mint each year from 1999 to 2008. The five coin sets included each of the designs released honoring the states of the union for each particular year. For most years, these sets were released in advance of the full annual set, which provided collectors with an opportunity to obtain each year's quarters earlier than usual. Sales ranged from a high of 1,235,832 reached in 2003 to a low of 672,438 in 2008.
The Mint has continued to offer separate proof sets featuring only the quarters for subsequent years. In 2009, the six coin 2009 District of Columbia & United States Territories Proof Sets were available. From 2010 onwards, five coin proof sets have been offered for the America the Beautiful Quarters.
From 2004 onwards, five or six coin proof sets were also offered with quarters struck in 90% silver.
In 2007, Presidential Dollars Proof Sets (Buy on eBay) were offered to coincide with the launch of the new series. Each set included four different designs, featuring the former Presidents of the United States in the order served. The product was extremely popular for the first year of release, selling 1,285,972 units. Sales for subsequent years have been slower.
Quarters Proof Set Mintages
| Issue | Mintage |
| --- | --- |
| 1999 | 1,169,958 |
| 2000 | 937,600 |
| 2001 | 799,231 |
| 2002 | 764,479 |
| 2003 | 1,235,832 |
| 2004 | 951,196 |
| 2005 | 987,960 |
| 2006 | 882,000 |
| 2007 | 672,662 |
| 2008 | 672,438 |
| 2009 | 630,976 |
| 2010 | 276,296 |
| 2011 | 152,302 |
| 2012 | 148,498 |
| 2013 | 128,377 |
| 2014 | 115,179 |
| 2015 | 99,477 |
| | |
Quarters Silver Proof Set Mintages
| Issue | Mintage |
| --- | --- |
| 2004 | 593,852 |
| 2005 | 608,970 |
| 2006 | 531,000 |
| 2007 | 672,662 |
| 2008 | 429,021 |
| 2009 | 299,183 |
| 2010 | 274,034 |
| 2011 | 147,901 |
| 2012 | 162,448 |
| 2013 | 138,451 |
| 2014 | 119,251 |
| 2015 | 103,367 |
| | |
Presidential Dollars Proof Set Mintages
| Issue | Mintage |
| --- | --- |
| 2007 | 1,285,972 |
| 2008 | 836,730 |
| 2009 | 629,585 |
| 2010 | 535,397 |
| 2011 | 299,853 |
| 2012 | 249,265 |
| 2013 | 266,677 |
| 2014 | 229,415 |
| 2015 | 214,063 |