In 1954, the popularity of the United States Mint's Proof Set continued to expand. The 1954 Proof Set (Buy on eBay) achieved total sales of 233,300, representing an increase of more than 100,000 sets from the prior year, or in percentage terms, an increase of about 81%.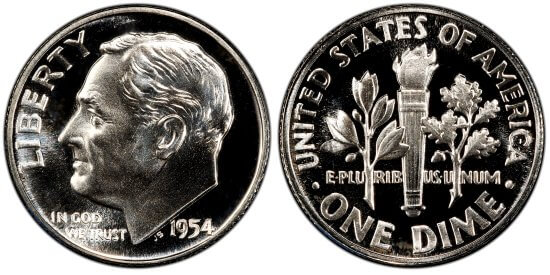 The format of the set remained the same since the resumption of the annual offering, which had taken place with the 1950 Proof Set. There were Proof versions of each of the denominations issued for circulation, struck at the Philadelphia Mint. The Proof coins were sold only as complete sets, without any individual specimens available.
With a face value of 91 cents, the five coins included in each 1954 Proof Set were the Lincoln Cent, Jefferson Nickel, Roosevelt Dime, Washington Quarter, and Franklin Half Dollar. Most Proof coins featured a brilliant Proof finish, although some coins featured cameo or deep cameo finishes. These coins are in high demand with modern coin collectors and drive premiums above brilliant Proof coins.
The 1954 Proof Set was packaged in the familiar small sized box. The Proof coins were each placed within individual cellophane sleeves, which were stapled at the top and wrapped in tissue paper. The bundle was placed in the box, which was sealed shut with tape.
1954 Proof Set Mintages
1954 Proof Set Information
Coins per Set: 5
Face Value: $0.91
Original Issue Price: $2.10
Mintage: 233,300

< 1953 Proof Set | 1955 Proof Set >