Representing the second issue in the modern Proof Set era, the 1937 Proof Set (Buy on eBay) saw its popularity and thus mintage increase compared to the prior year. The trend of steadily increasing mintages would continue for the next five years until Proof coin production was once again halted.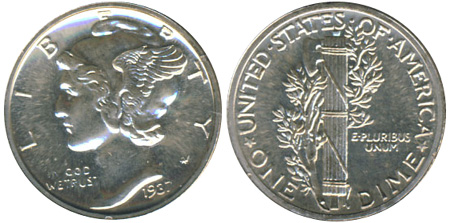 The Philadelphia Mint struck Proof versions of each of the denominations issued for circulation during the year. This included the cent, nickel, dime, quarter, and half dollar. All coins were struck with a more or less consistent brilliant finish, although there are a small number of 1937 Proof coins which will display cameo contrast.
Collectors were allowed to purchase the coins either individually or as a complete set. The pricing followed that of the previous 1936 Proof Set with premium established for each individual denomination and the complete set priced at $1.89, a price which included shipping to the customer.
Mintages varied widely due to the impact of individual sales. Establishing a general trend, the Washington Quarter once again had the lowest mintage while the Lincoln Cent had the highest. The mintage for the 1937 Proof Set is stated in most references as 5,542, which is the lowest mintage amongst all Proof coins issued for the year.
Most 1937 Proof Sets encountered will not be within the original packaging since it was rarely retained and did not preserve the coins well. Complete sets are often housed in Capital plastics holders. Coins are frequently encountered individually, encapsulated within third party grading holders.
1937 Proof Set Coins
1937 Proof Set Information
Coins per Set: 5
Face Value: $0.91
Original Issue Price: $1.89
Mintage: 5,542

< 1936 Proof Set | 1938 Proof Set >