Although sales of the 1939 Proof Set (Buy on eBay) showed an increase from the prior year, the rise was not as dramatic as experienced previously. This was now the fourth year in a row that the United States Mint had struck Proof coins for collectors.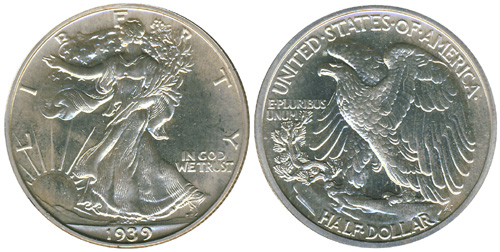 The Proof coinage of 1939 was available either individually or as a complete set. The Proof Walking Liberty Half Dollar was originally 75 cents, the Proof Washington Quarter was 50 cents, the Proof Roosevelt Dime and Jefferson Nickel were each 20 cents, and the Proof Lincoln Cent was 16 cents. A complete 1939 Proof Set could be ordered for $1.89, which included shipping.
Due to the individual sales, the mintages for the coins varied by denomination. The mintage for 1939 Proof Set is usually stated as 8,795. This is the level of the lowest mintage individual coin, and therefor the maximum number of sets that could be created.
Nearly all 1939 Proof coins are found with a brilliant finish. On extremely rare occasion coins will exhibit a cameo finish, with frosted raised design elements and mirrored background fields. The major grading services PCGS and NGC have attributed the cameo designation to some 1939 Proof cents, nickels, and dimes.
During this era, packaging for Proof Sets and coins varied by customer order. Typically, each Proof coin ordered was placed within an individual cellophane sleeve, with all sleeves stapled together and placed within a box or envelope for shipping. Most 1939 Proof Sets encountered today will be within privately produced plastic holders or encapsulated in third party grading holders.
1939 Proof Set Coins
1939 Proof Set Information
Coins per Set: 5
Face Value: $0.91
Original Issue Price: $1.89
Mintage: 8,795

< 1938 Proof Set | 1940 Proof Set >