The 1938 Proof Set (Buy on eBay) was the third year of issue after the United States Mint resumed the production of Proof coins for collectors. Sales continued to grow, with mintages for each coin more than double the levels attained in 1936. Notably, this set also contains the first year of issue for the Jefferson Nickel.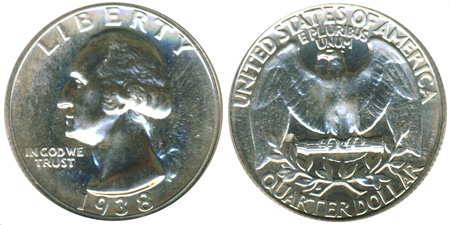 Similar to previous years, all Proof coinage was struck at the Philadelphia Mint facility. Five denominations were produced with sales taking place individually or within complete sets. The 1938 Proof coins included the Lincoln Cent, Jefferson Nickel, Mercury Dime, Washington Quarter, and Walking Liberty Half Dollar. The introduction of a new design for the nickel generated substantial collector interest and Proof coin sales for the denomination were more than three times the level of the prior year.
The coin which experienced the lowest sales was the 1938 Proof Washington Quarter at 8,045. References list the mintage of the 1938 Proof Set as this amount since it represents the highest number of sets that can possibly be formed based on sales.
The 1938 Proof Coins are encountered predominantly with a brilliant Proof finish. Proof coins exhibiting cameo contrast are exceedingly rare and highly valued. A 1938 Proof half dollar graded PR66 Cameo by PCGS sold at auction in January 2011 for $9,200.
Packaging for the 1938 Proof Set varied based by customer order since coins could be ordered individually. Generally, each Proof coin was placed within an individual cellophane sleeve with all sleeves stapled at the top. The bundle would be placed within a box or envelop depending on the quantity. It is rare to encounter 1938 Proof coins in their original packaging as most have been transferred to different holders or have been certified.
1938 Proof Set Coins
1938 Proof Set Information
Coins per Set: 5
Face Value: $0.91
Original Issue Price: $1.89
Mintage: 8,045

< 1937 Proof Set | 1939 Proof Set >