The 2019 Silver Proof Set (Buy on eBay) included for the first time 99.9% fine silver versions (rather than 90% silver) of each of that year's 5 America the Beautiful Quarters honoring Lowell National Historical Park (Massachusetts), American Memorial Park (Commonwealth of the Northern Mariana Islands), War in the Pacific National Historical Park (Guam), San Antonio Missions National Historical Park (Texas), and Frank Church River of No Return Wilderness (Idaho).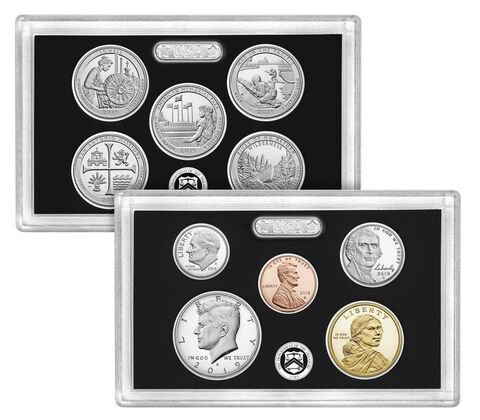 The change in silver composition was made possible by legislation from 2015 and was done to reduce costs for refining and manufacturing. Because .999 or higher silver fineness was by then the standard used by the companies that produce silver coin planchets, the Mint had been paying extra to obtain 90% silver planchets through 2018. The change was welcomed by collectors who appreciate having coins with more silver content in them.
The set also included a Native American Dollar with a reverse design depicting Mary Golda Ross writing calculations. Behind her, an Atlas-Agena rocket launches into space, with an equation inscribed in its cloud. An astronaut, symbolic of Native American astronauts, including John Herrington, spacewalks above. In the field behind, a group of stars indicates outer space.
The set further included a Lincoln Cent and Jefferson Nickel plus 99.9% silver versions of the Roosevelt Dime and Kennedy Half Dollar all struck in Proof like every coin in this set and housed in two protective lenses—one for the quarters and one for the other five coins.
In addition, a special bonus 2019-W Reverse Proof Lincoln Cent was included in the set and only available to those who purchased the 2019 Silver Proof Set from the Mint. This coin was packaged in plastic wrap. It was the second Lincoln Cent struck with a Reverse Proof finish after the one included in the 2018 50th Anniversary Reverse Proof Set but the first with a "W" mint mark in that finish.
In October the price of the set was more than doubled to $105.
2019 Silver Proof Set Coins
2019 Silver Proof Set Information
Coins per Set: 10 (plus bonus 2019-W Reverse Proof Lincoln Cent)
Face Value: $2.91
Silver Content: 1.508 troy oz. (46.890 g)
Original Issue Price: $54.95
Mintage: 412,508
Limited Edition Silver Proof Set
The 2019 Limited Edition Silver Proof Set (Buy on eBay) went on sale on October 17 with a product limit of 50,000 and a household order limit of two.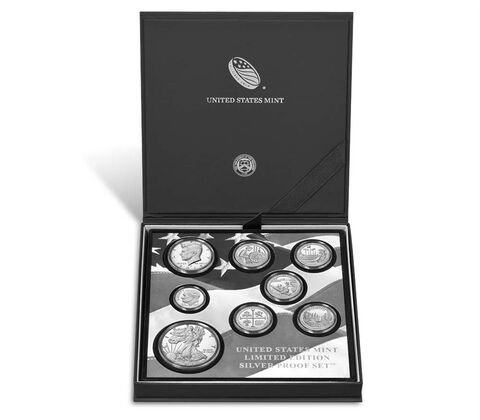 The set included for the first time 99.9% silver versions of that year's five America the Beautiful Quarters (as listed above), Roosevelt Dime and Kennedy Half Dollar plus the 2019-S Proof American Silver Eagle. Each coin is struck in Proof and bears an "S" mint mark for the San Francisco Mint. The set was priced at $149.95 and housed in a special, luxury case with each coin in its own individual capsule.
Cumulative sales reached 48,417 for this set.
2019 Limited Edition Silver Proof Set Coins
2019 Limited Edition Silver Proof Set Information
Coins per Set: 8
Face Value: $2.85
Silver Content: 2.509 troy oz. (78.040 g)
Original Issue Price: $149.95
Mintage: 48,417

< 2018 Silver Proof Set | 2020 Silver Proof Set >