On April 17, 2020, the U.S. Mint began selling the 2020 Silver Proof set (Buy on eBay) priced at $63.25.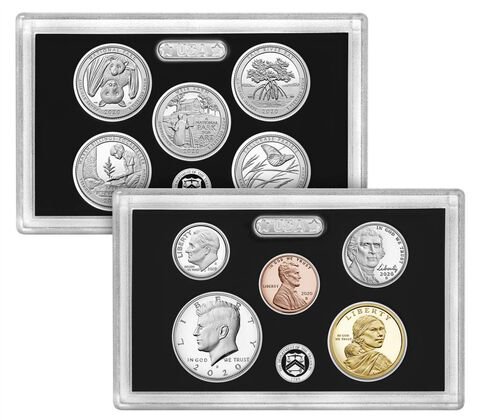 This set included .999 fine silver Proof versions of each of the five 2020 America the Beautiful quarters honoring the National Park of American Samoa (American Samoa); Weir Farm National Historic Site (Connecticut); Salt River Bay National Historical Park and Ecological Preserve (United States Virgin Islands); Marsh-Billings-Rockefeller National Historical Park (Vermont); and Tallgrass Prairie National Preserve (Kansas).
The set also included a Native American $1 Coin with a reverse design featuring a portrait of Elizabeth Peratrovich, whose advocacy was considered a deciding factor in the passage of the 1945 Anti-Discrimination Law in the Alaska State Legislature. The foreground features a symbol of the Tlingit Raven moiety, of which she was a member.
The sets further included Proof versions of the 2019 Lincoln cent and Jefferson nickel and .999 fine silver versions of Roosevelt dime and Kennedy half dollar plus a special bonus 2020-W Reverse Proof Jefferson nickel only available in this set. This was only the second Reverse Proof nickel and second with a "W" mint mark ever issued after the 2019-W Reverse Proof nickels included in the 2019 Silver Proof set.
Limited edition set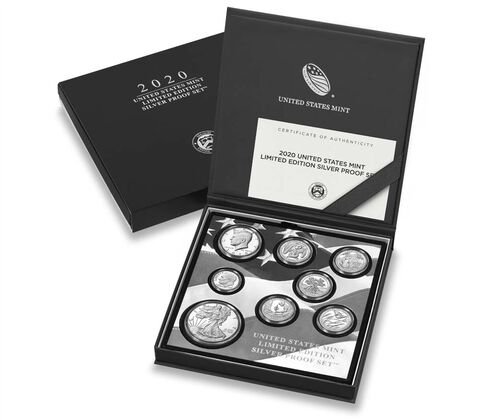 On December 20, the 2020 Limited Edition Silver Proof set (Buy on eBay) with a product limit of 50,000, household limit of two and price of $201 was released. The price represented a $51 increase over the price of the 2019 set, which was due to the price of silver being about $24 per ounce at the time compared to about $17 when the 2019 set was released.
The set included .999 fine silver versions of each 2020 America the Beautiful quarter, Roosevelt dime, Kennedy half dollar and the 2020-S Proof American Silver Eagle. Each coin is housed in its own protective capsule, which is placed inside a display case.
Cumulative sales for this set were 49,995.
2020 Silver Proof Set Information
Coins per set: 10 plus 2019-W Reverse Proof nickel bonus
Face value: $2.91
Original Issue Price: $63.25
Mintage: 313,183
2020 Limited Edition Silver Proof Set
Coins per set: 8
Face value: $2.85
Original issue price: $201
Mintage: 49,995